Construction Styles for Wood Countertops
When designing a custom wood countertop, island top, butcher block or table top, you will need to consider which construction technique(s) you would like to use.
The first decision is regarding which type of grain will be visible on the top of the counter, island top, or table top: Face Grain, Edge Grain, or End Grain.
The second consideration concerns how the strips of wood are arranged in the top: Continuous Strips or Randomly Jointed Strips or Blocks.
Face Grain Construction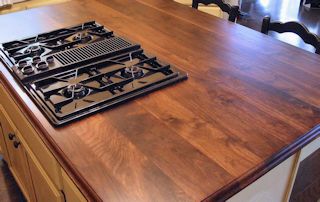 Face Grain wood countertops are constructed using the width of boards. The surface of the top has a wide grain pattern that shows the natural ovals and swirls of the wood.
This technique is the least suitable for tops whose surface will be used for chopping or cutting, but it provides an elegant look to an island or countertop that does not double as a chopping surface.
Face grain tops may be constructed using continuous strips or randomly jointed strips.
Edge Grain Construction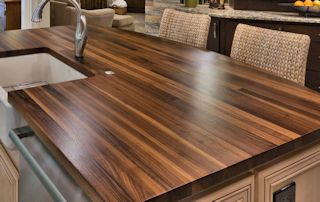 Edge grain wood countertops are constructed using strips cut from wider boards which are then placed on edge and joined together. Mostly vertical (straight) grain lines are visible along the length of the wood.
Edge grain construction makes a hard and stable surface for island and counter tops. It is also a cost-effective alternative to end grain construction for chopping blocks.
Edge grain tops may be constructed using continuous strips or randomly jointed strips.
End Grain Construction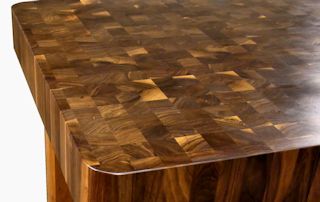 End grain wood countertops and butcherblocks are constructed using square or rectangular shaped blocks which are arranged so the end of the wood (the growth rings) are visible on the surface of the top.
The "self-healing" aspect of end grain surfaces makes this construction technique ideal for chopping Blocks. Your blade edges will last much longer and the top shows minimal wear and tear. End grain tops should be a minimum of 2" thick.