Species and Construction Options for Wood Countertops
We work with a wide variety of woods including domestic hardwoods, exotic hardwoods, and unique native species like Mesquite and Texas Pecan. Each wood species has distinctive grain patterns, color variations, and characteristics that make it uniquely beautiful. Try combining multiple woods together or mixing construction styles to bring extra drama to your tops.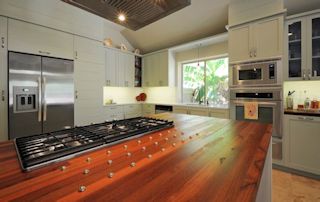 When designing a custom wood countertop, island top, or butcher block, you will need to consider which construction techniques you would like to use. Face grain construction has a wide grain pattern that shows the natural ovals and swirls of the wood. Edge grain construction uses strips of wood that are cut from wider boards and show vertical grain lines along the length of the wood. End grain construction uses square or rectangular shaped blocks which are arranged so the end of the wood (the growth rings) are visible on the surface of the top.
There are few materials that are as well suited to forming custom shapes and unique edge profiles as wood. We can create one-piece or multi-section tops of nearly limitless sizes shapes and thicknesses.
DeVos Custom Woodworking has a wide variety of standard edge profiles. We are also experienced at creating custom profiles that suite your specific design.
We provide a variety of finishes to help you achieve the look, feel, and level of protection desired for your top. Although we love the look and color of natural wood, we also have standard or custom stain options available.