Knife Storage Options for Wood Countertops
Knife slots, knife blocks, or removable knife holders may be integrated into your countertop or island top.
Below you will find some examples of knife storage options we have done in the past.
Click on the photos below for a larger view.
Integrated Knife Slots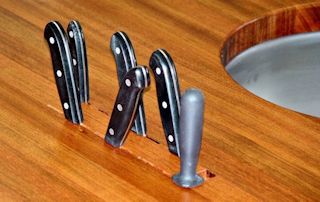 Integrated knife slots keep your knives within reach. Knife ends drop into unused space inside the cabinet.
The slots are customized to the clients specifications. Individual slots can be made to specific sizes to fit your knife set. Some clients prefer to have the slots made to generic sizes to fit any knives. Others prefer a single long slot that holds all knives in a row.
Removable Knife Blocks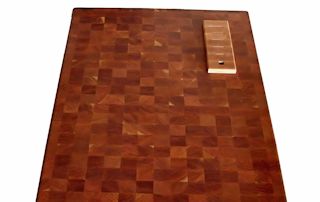 Removable knife blocks drop inside the cabinet and provide protected storage for your knives.
Knife blocks are a stylish option for protecting your knives. They can be made from the same wood as the countertop or for contrast, chose a different wood for the knife block.
As with the integrated knife slots, the slots for the knives are customized to the clients specifications. See the examples below.
Integrated Knife Blocks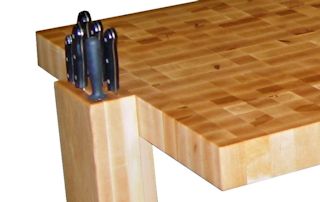 No room for knives to drop inside the cabinet? Integrated knife blocks provide the same convenience without taking up inside cabinet space.
These blocks are integrated into the edge of the wood countertop allowing the knife block to hang on the side of the cabinet. As with the other knife storage options, these blocks are customized to the specific needs of the client.