Joint Options for Multi-Section Wood Countertops
We can create one-piece or multi-section tops of nearly limitless sizes and configurations. Joints are used to create 'L', 'U', 'C', and other shapes in wood countertops.
Every joint is custom fitted at our shop to ensure a durable and tight seem. Joints are secured with FlipBolt hardware which is installed on the underside of the countertops being joined. The FlipBolt is a "tool-less" connector. Simply hand tighten the nut, then flip the lever down.
Click on the photos below for a larger view.
Butt-Joints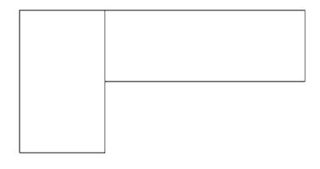 In a butt-joint countertop, two countertop pieces are joined at a right angle by simply attaching the end of one countertop to a side of the second countertop. DeVos makes precision cuts to ensure that the wood pieces come together perfectly, and then the joint is strengthened by using Flib Bolt hardware to make the joint tight and strong.
A butt-joint is not usually considered as aesthetically pleasing as a mitre joint that joins the countertop pieces at an angle, but it uses less wood, is economical, and can be used as a design feature that calls attention to the linear look of the wood top.
Mitre Joints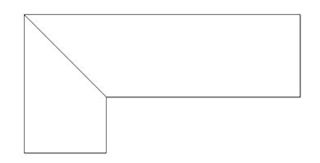 A mitre joint countertop is when each end of the two countertop pieces is beveled and joined together to form an angle. A 90-degree angle requires two 45-degree mitre cuts and is typical for L-shaped countertops, but many other angled countertops feature wider or narrower angles. All angle cuts other than 90-degrees must be carefully templated to ensure a perfect fit. Flip Bolt hardware is used to make the joint tight and strong.
The mitre joint is considered decorative joinery and makes a beautiful pattern as the two pieces of countertop come together at an angle.
Puzzle Joints
Wow! Puzzle joints are attractive and strikingly creative joints that are often used on very long wood surfaces. These are self-locking joints that are further reinforced with draw bolts. They increase the stability of a long wood surface while providing visual interest.
Puzzle joints can also be used in slab construction when we are joining two slabs from the same tree. In this case, the puzzle joint follows the prominent grain pattern of the slab and joins it to a similar grain pattern found in the second slab. Puzzle joints are a spectacular way to join two large slabs while showing off a lovely uninterrupted grain pattern, and no one does this better than DeVos Custom Woodworking. When used to join two slab pieces together, the puzzle joint is joined permanently in the shop and is then handled as one piece.
Flip Bolts
The bottom surfaces of the two pieces to be joined together will each contain a hole with a groove that extends across the joint. These holes will accommodate the FlipBolt® countertop connectors that were shipped with your multi-piece top. These connectors will be tightened and serve to clamp the joint together. See the photos below for an example. Additional information can also be found in our Installation Instructions.