Wood Species for Countertops
There are many woods available for custom wood countertops. Below are examples of the most common woods we work with. You will also find a pricing level indicator and the Janka Hardness scale for each of these woods
Each wood has it's own unique characteristics, and some may be more appropriate than others in certain applications. Click on a wood sample for larger photos and to see more detailed information about the characteristics of that wood. We are always happy to help you with your specific requirements.
We also work with several other wood types and often have specialty woods like Spalted Maple, Spalted Pecan, Texas Pecan, Texas Walnut, and wood slabs available. Call us with your requests.
And remember, wood is a natural product. Some variation in color and grain pattern will occur between samples, photographs and any specific installation.
Hardness Ratings of Wood:
There are many woods available for custom wood countertops. Below are examples of the most common woods we work with. You will also find a pricing level indicator and the Janka Hardness scale for each of these woods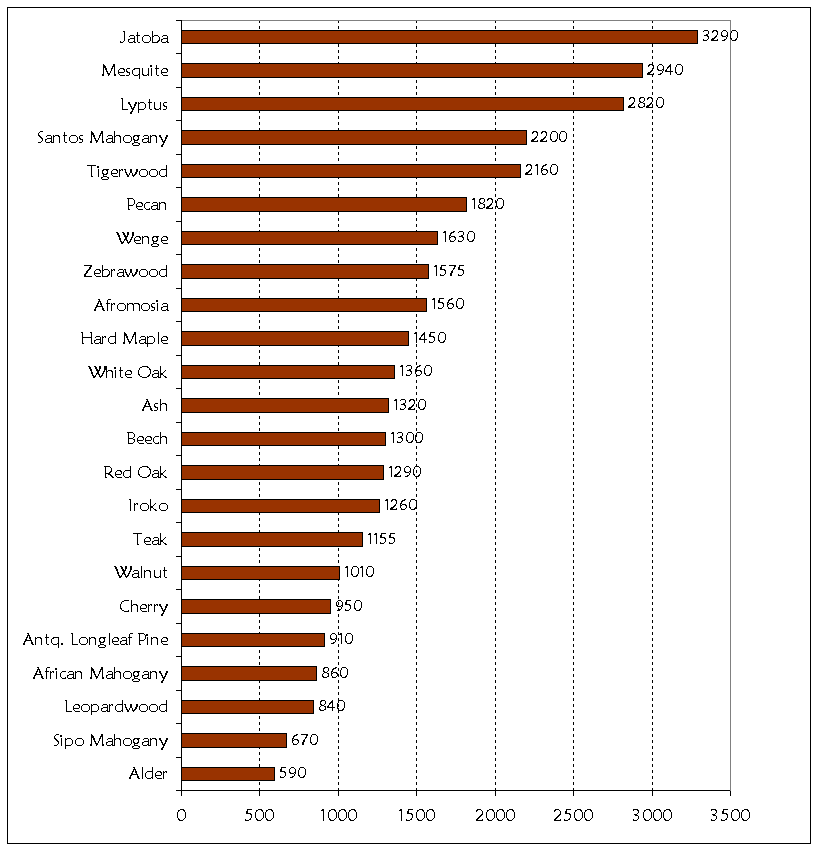 (Ranked by Janka hardness rating)
The Janka (or side) hardness test measures the force required to embed a .444-inch steel ball to half its diameter in wood. It is one of the best measures of the ability of a wood species to withstand denting and wear. By the same token, it is also a good indicator of how hard or easy a species is to saw or mill.
The higher the number, the harder the wood.