Designing Wood Countertops
One reason why wood is so magnificent as a countertop material is the ability to customize it. Whether customizing for convenience, utility, or aesthetics, the possibilities are endless.....
Many decisions go into making a custom wood top. The staff at DeVos Custom Woodworking is experienced in helping you to achieve a design that will meet and exceed expectations for you or your clients.
Wood species and Construction Styles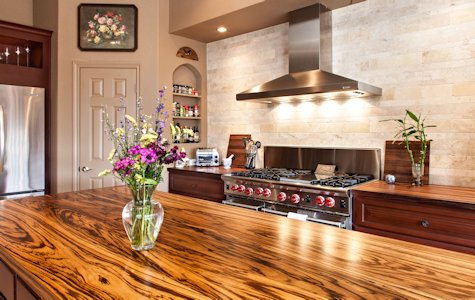 Mixing and matching different woods or construction styles enhances the design of a kitchen. We work with a wide variety of woods including domestic hardwoods, exotic hardwoods, and unique native species like Mesquite and Texas Pecan. Each wood species has distinctive grain patterns, color variations, and characteristics that make it uniquely beautiful. Try combining multiple woods together or mixing construction styles to bring extra drama to your tops.
Edge profiles and custom shapes for wood countertops
There are few materials that are as well suited to forming custom shapes and unique edge profiles as wood. DeVos Custom Woodworking has a wide variety of standard edge profiles. We are also experienced at creating custom profiles that suit your specific design. We can create one-piece or multi-section tops of nearly limitless sizes and thicknesses.
Cooktop, range, and sink cutouts in wood countertops
Cutouts can be produced for sinks, faucets, cooktops, and ranges of all shapes and sizes. For undermount sinks, cooktops, and ranges, we use the manufacturers template or specification page to achieve an accurate cutout. For Handmade sinks, custom sinks, or other sinks that do not have manufacturer supplied templates, we will need to have the sink on-site to ensure an accurate cutout. We require dimensioned drawings that show the size and placement of all cutouts
Inlays, fills, and integrated options for wood countertops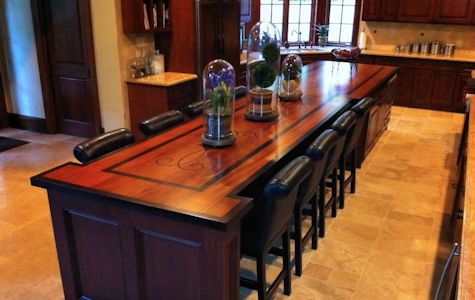 We offer a wide variety of custom options including integrated knife blocks, stainless steel grids, trash holes with hand carved trash lids, sloping drain boards and so much more. Custom inlays can be used to personalize your top. Custom fills, like crushed turquoise provide distinctive details that catch the eye. We are experts at customization and will work with you to create a top that is exclusive.
Distressing and finishes on custom wood countertops
Do you prefer to have more of a worn or rustic look? A distressed finish can be provided where we add dings, worm holes, slight gouges and other marks to your top. We also provide a variety of finishes to help you achieve the look, feel, and level of protection desired for your top. Although we love the look and color of natural wood, we also have standard or custom stain options available.